Taste 4: Double Chocolate Chilies and Cherries Chocolove Chunk Cookies
For my fourth way to show him how much I care (about his waistline) I pulled out one of my original recipes I created a couple years ago: Double Chocolate Chilies and Cherries Chocolove Chunk Cookies.  The title is a mouthful because once these babies come out of the oven, you will have a mouthful of cookies all night. Warning: eat responsibly.
Local Boulder-based Chocolove makes a Chilies and Cherries bar and it's one of my favorites.  I'm known to make spicy brownies (coming up soon in this 14-part series), but wanted to branch out a bit on my chocolate baked goods, so one day I got creative and made up this cookie recipe.  I love it.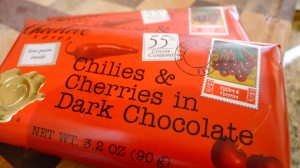 Here's how I made them:
Ingredients:
10 oz bittersweet chocolate (Ghirardelli sells 10 oz bags of chocolate chips which work well)
1/3 cup heavy whipping cream
1/2 cup evaporated cane juice
3 eggs
1/3 cup unbleached flour
1/2 tsp baking powder
2 bars of Chocolove Chilies and Cherries in Dark Chocolate
Start by melting the bittersweet chocolate in a double boiler.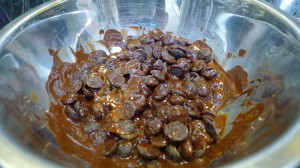 While it is melting, whip the cream into
butter
in your KitchenAid stand mixer. Then cream together the butter and sugar (evaporated cane juice). Next, add the eggs and mix well.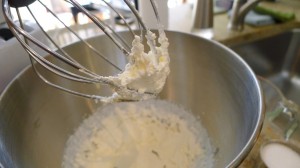 When the chocolate is melted, remove it from heat and let it cool for 5 minutes or so before adding it to the mixing bowl. Mix in the melted chocolate and then add the flour, baking powder, and mix well again. Finally add the chopped Chocolove bars.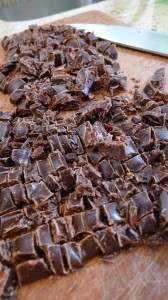 The batter is going to be wet, so put 2 pieces of wax paper or plastic wrap on the counter and pour half of the batter onto each piece. Carefully form wrapped logs and transfer them to the freezer for 30 minutes or the fridge for a couple hours.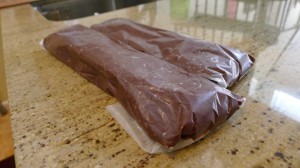 Slice the cold batter-logs into disks and roll them into ping-pong-sized balls.  Bake them on a parchment lined tray at 375 for 10-12 minutes.  They'll still feel delicate in the middle when they're done, so carefully slide them onto a cooling rack.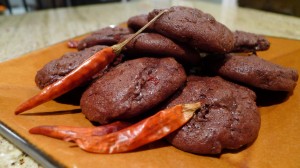 Enjoy!