I love pumpkins, peanuts, and curry, and, I think they combine perfectly for a hearty, healthy, flavorful soup. I enjoy making a pumpkin peanut curry soup at least once each fall. There is something about it that brings me back to a small cafe in Siem Reap, Cambodia, where I specifically recall tasting a pumpkin-peanut curry soup for the first time. After the first spoonful I remember thinking I had stumbled upon a flavor gold-mine. So, if you're skeptical, give it a try. Let me know what you think.
But, first things first- my recipe: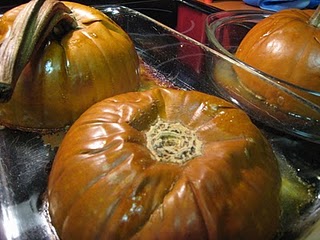 Ingredients:
one pie pumpkin
1 cup unsalted peanuts
peanut oil
2 yellow onions
2-3 cups water
2 TB soy sauce
3-4 TB maple syrup
1-2 TB Vietnamese Sweet Lemongrass Curry (a Savory Spice Shop blend)
Start by roasting a pie pumpkin. I like to cut them in half and drizzle them with something good, like peanut oil for this recipe. Put the pumpkin cut-side-down in a baking dish with the peeled and quartered onions and a little water. Roast this at 400 for 30 minutes or so until you can pierce it easily with a fork or knife.
I roasted a cup of peanuts, so it might be a good idea to spread them on a baking tray and roast them for 5-10 minutes while the oven is heating up. As long as you're paying attention, this way of roasting peanuts will work just fine. However, if you're even the least bit scatter-brained in the kitchen, you just might forget about the peanuts and they'll burn (I'm guilty of this!). So, you decide if you'd prefer to roast the peanuts separately at 250 until golden brown.
Then, into the
Vita-Mix
go the peanuts to make fresh peanut butter. I know what some people are thinking: "But wait. Why can't I just use peanut butter?" That's fine too. I always like to do things the long way, and ever since buying my Vita-Mix, I don't purchase nut butters since I easily make them at home. So, the next step is to make peanut butter.
Then, add the cooked pumpkin flesh to the vita-mix with a couple cups of water, soy sauce, maple syrup, and blend, starting on low and slowly moving up to high, until it is a smooth puree. Add a little more water if it is too thick.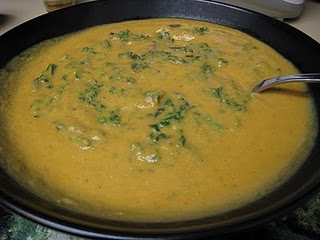 Transfer the soup to a stock pot and cook until heated through. Add the Vietnamese Sweet Lemongrass Curry from nowhere other than
Savory Spice Shop
. Mix well.
I had some cooked kale ready to go, so I gave it a coarse chop and added it to my bowl. De-li-cious.