When our local Whole Foods ripped out it's prepared foods counter to install a Beyond Meat Burger Bar, Sean and I took a look at these veggie patties and decided to pick some up for our July fourth BBQ. Would we buy them again? No. Not a chance.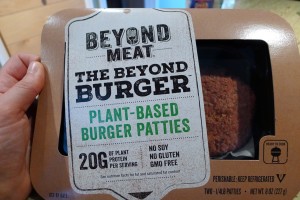 These pea protein burgers are in the freezer section, and they look very much like ground beef. Once you get through the packaging, they're VERY similar in appearance to beef.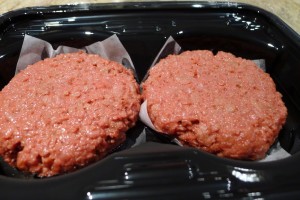 They're juicy, unlike any other veggie patty I've seen. Beet juice makes them red, and it allows them to "bleed" when you bite into them. That's where this company lost me as a potential consumer/customer. I enjoy veggie patties that function like a burger in the sense that they stick together and can be on a bun with toppings. If I wanted the meat-eating experience, I'd eat a real burger. But, we gave them a try…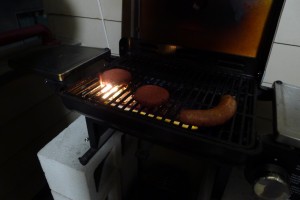 We thawed them and followed grilling instructions. These patties have coconut oil, which makes the grill flare up as soon as they go on. Personally, I'm not on the coconut oil bandwagon and don't easily succumb to food trends, so, though it's smart to add it for the grilling experience, it's a bit gimmicky to me. The chicken sausage from Whole Foods on the right of the grill was my dinner for the night, by the way.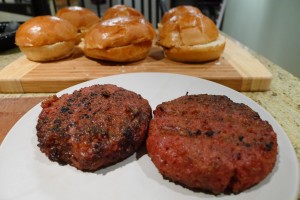 The Beyond Burger grills up to really look like a burger.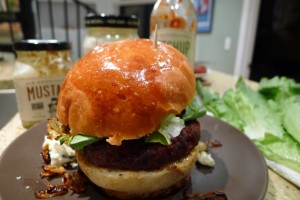 Chef dressed one up with all of the Sir Kensington's condiments we had in the house as well as some romaine, blue cheese, and caramelized onions. It looks like a burger, kind of tastes like a burger, but isn't a burger. It's a highly processed food item designed to look like one of the "sexiest" things you can indulge in. A Hamburger. So, this is where they've completely lost me. Why do we Americans need to create food items that resemble things we enjoy eating, but make them "healthy" by making them vegetarian, vegan, gluten free, or paleo? I'm going to stick to a balanced diet of mostly vegetables with an occasional indulgence in meat, seafood, chicken, or turkey. And, chef and I will continue to make home-made veggie patties when we're feeling like a burger at home.
Beyond Meat has "chicken" strips, tenders, burgers, and crumbled "beef" all made of veggie protein. While I agree whole-heartedly that we should consume fewer animals and animal products, I don't think that needs to be highly processed, packaged, and made to resemble the animal protein we're eliminating or cutting back on for the time being. Why can't a vegetarian stir fry have just veggies and rice in some amazing spice or sauce? Why does it need to include a fake piece of chicken that looks and almost tastes like chicken? Just as weaning your way off of sugar and chocolate bars will eventually cut your sugar addiction, eating more of and enjoying more whole foods based meals will change your eating habits and preferences. Give it a try. I dare you.
I always enjoy a good meal on my trips to Burlington, and this trip was no different. Sean and I were staying at Homeplace Bed & Breakfast, and had a great discussion with Mariot the owner over breakfast. Mariot was explaining to us that up in Vermont local food is incredibly local. Restaurants source cheeses, meats, eggs, and vegetables often from within a few miles' radius. Local doesn't just mean local to the state or region. A cheese plate in Burlington, for example, is likely very different from a cheese plate in Brattleboro or Montpelier, Mariot explained. Before finishing breakfast I had already decided I needed some local cheese that afternoon.
We met one of Sean's sisters for lunch in downtown Burlington and decided to eat al fresco on a gorgeously sunny September afternoon at The Farmhouse Tap & Grill. As soon as I flipped  their menu over, I was reminded of the morning's conversation with Mariot: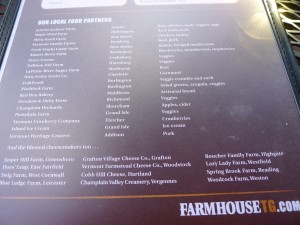 Their menu highlights nineteen different local farms, the towns where you'll find the farms, and what they provide the restaurant. It then mentions twelve local cheese makers. We just don't see too much of this in Colorado…
As I was on a northeast cider tasting tour, I tried some cider on tap. Sean was all about local beer. I didn't write down which ones we tried, so these will go unnamed.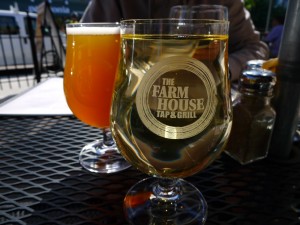 The first thing I look for on menus at restaurants like this is pickles. Of course they had house made pickles!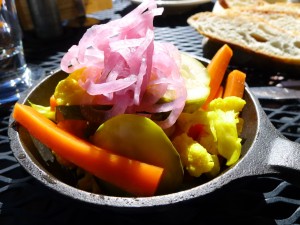 Roasted beets and goat cheese, both locally sourced, were also on the top of my list for lunch.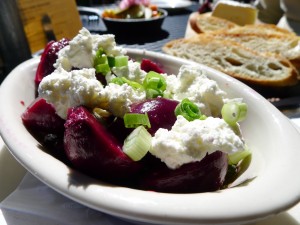 The cheese plate was also fun. Sean picked a few from the menu to custom build a plate with some apple butter and jam.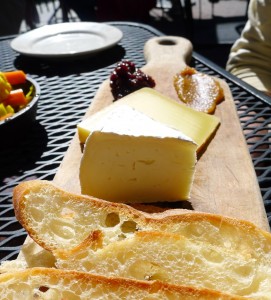 Everyone was SO patient while I snapped photos, and then food was quickly devoured. Next came our actual lunch. Sean had the Farmhouse Veggie Burger with Cabot cheddar, house made kimchi, and pickled jalapeños with fries.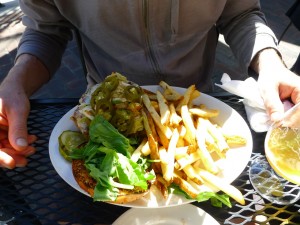 His sister Angela had their Misty Knoll Free Range Turkey Burger with Vermont farmstead Tilsit cheese, cranberry mostarda, arugula, charred onions, and fries.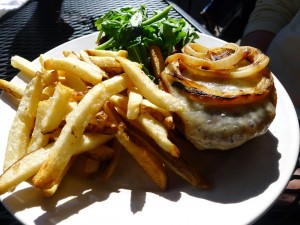 And I went for the Farmhouse Veggie Sandwich with house made hummus, Landaff Creamery "Landaff" cheese, Jericho Settler's Farm carrots, dill pickles, local sprouts, grilled zucchini, herbed yogurt, on Red Hen Bread. I, as usual, went with a side salad to complement my veggie sandwich rather than fries. I'm just no fun!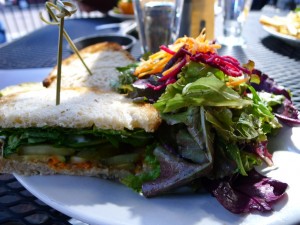 We had a great lunch on their beautiful patio, and I'd definitely go back.
160 Bank Street, Burlington, VT 05401
802.859.0888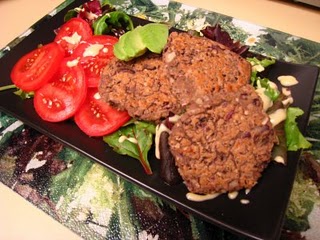 These patties were a spontaneous creation, and they turned out great. They are very fast and easy, and don't have any extra ingredients like you'll find in pre-made, frozen veggie patties.
Ingredients:
1 can Black Beans
1 can Cannellini Beans
3 cloves Garlic
1/2 Red Onion
Sea Salt
fresh ground Black Pepper
Cumin
Coriander
Cayenne
Veggie Broth
Yellow Corn Meal
Olive Oil
In a food processor, on pulse mode, combine the 2 cans of beans, onion, and garlic. Mash it up until most is mushy, but you can still see some evidence of whole beans. Transfer to a large bowl, and add some salt, pepper, 1/2 tablespoon or so of ground cumin, a pinch of ground
coriander, a little cayenne, a splash of veggie broth to moisten it (there is no egg to hold the mixture together), 1/4 cup of corn meal, and a tablespoon of olive oil. Mix this well.
Heat up a skillet as if you were making pancakes. Make golfball size balls of the bean mixture and press into patties. Pan fry on both sides until golden brown. Serve with
Sweet Feta Sauce
.