The Farmhouse Tap & Grill, Burlington, VT
I always enjoy a good meal on my trips to Burlington, and this trip was no different. Sean and I were staying at Homeplace Bed & Breakfast, and had a great discussion with Mariot the owner over breakfast. Mariot was explaining to us that up in Vermont local food is incredibly local. Restaurants source cheeses, meats, eggs, and vegetables often from within a few miles' radius. Local doesn't just mean local to the state or region. A cheese plate in Burlington, for example, is likely very different from a cheese plate in Brattleboro or Montpelier, Mariot explained. Before finishing breakfast I had already decided I needed some local cheese that afternoon.
We met one of Sean's sisters for lunch in downtown Burlington and decided to eat al fresco on a gorgeously sunny September afternoon at The Farmhouse Tap & Grill. As soon as I flipped  their menu over, I was reminded of the morning's conversation with Mariot: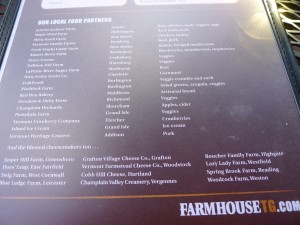 Their menu highlights nineteen different local farms, the towns where you'll find the farms, and what they provide the restaurant. It then mentions twelve local cheese makers. We just don't see too much of this in Colorado…
As I was on a northeast cider tasting tour, I tried some cider on tap. Sean was all about local beer. I didn't write down which ones we tried, so these will go unnamed.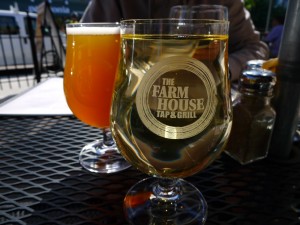 The first thing I look for on menus at restaurants like this is pickles. Of course they had house made pickles!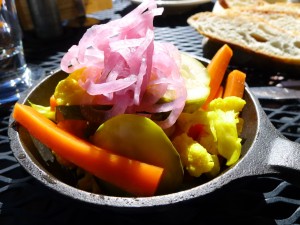 Roasted beets and goat cheese, both locally sourced, were also on the top of my list for lunch.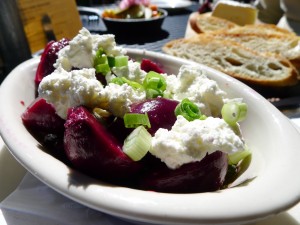 The cheese plate was also fun. Sean picked a few from the menu to custom build a plate with some apple butter and jam.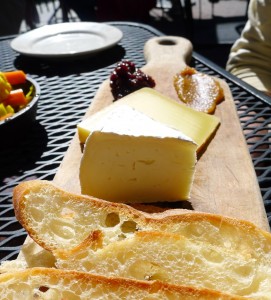 Everyone was SO patient while I snapped photos, and then food was quickly devoured. Next came our actual lunch. Sean had the Farmhouse Veggie Burger with Cabot cheddar, house made kimchi, and pickled jalapeños with fries.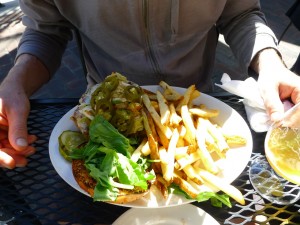 His sister Angela had their Misty Knoll Free Range Turkey Burger with Vermont farmstead Tilsit cheese, cranberry mostarda, arugula, charred onions, and fries.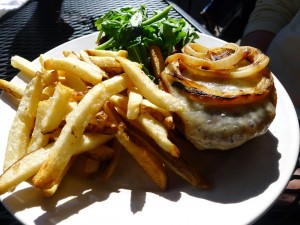 And I went for the Farmhouse Veggie Sandwich with house made hummus, Landaff Creamery "Landaff" cheese, Jericho Settler's Farm carrots, dill pickles, local sprouts, grilled zucchini, herbed yogurt, on Red Hen Bread. I, as usual, went with a side salad to complement my veggie sandwich rather than fries. I'm just no fun!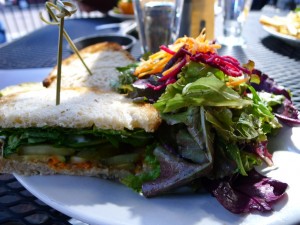 We had a great lunch on their beautiful patio, and I'd definitely go back.
160 Bank Street, Burlington, VT 05401
802.859.0888