Since my spice cabinet is filled with
Savory Spice Shop
herbs and spices, it is always a fun endeavor creating something vegetarian for dinner. I'm interested in Fennel Pollen lately, so I thought I'd make a tempeh dish featuring this "spice of the angels."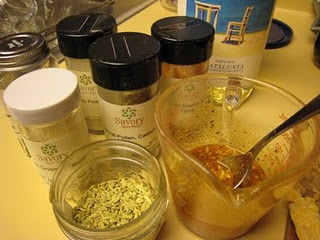 I didn't really measure anything for my marinade, but it was basically
1 TB dehydrated onion
1/2 TB garlic powder
1/2 TB dried parsley
1/2 TB smoked Spanish paprika
1 tsp whole fennel seeds
a pinch of fennel pollen
2-3 TB olive oil
1/4 cup white wine
a splash of worcestershire
Mix that up, and pour it over some temepeh.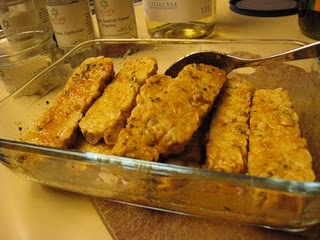 I let mine sit for an hour or so before grilling. Then, I opened my last jar of pickled onions from last summer's crop. My pickled onions are so delicious- they're not just any old pickled onions- they're olive oil pickled onions, which means they have a coating of olive oil over the top which kept them from spoiling all winter (they did not withstand a boiling bath or any heated canning process). The olive oil mixes with the vinegar to create a salad-dressing-like flavor effect (or profile?).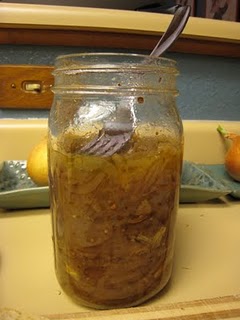 I'll be making twice as many pickled onions this year… But, first, back to my grilled tempeh. Grill it for a few minutes on each side. Easy.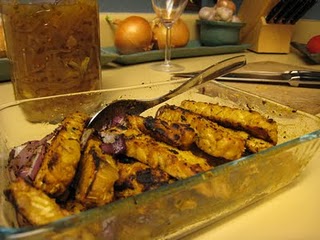 I served mine with some grilled ciabatta, smoked provolone, olive oil pickled onions, and
Red Rocks Hickory Smoke Ketchup
, which is, quite frankly, the best ketchup.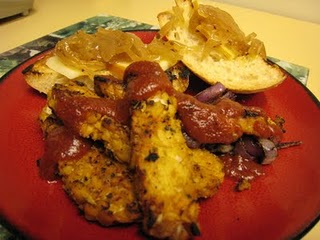 So, go grill some tempeh and enjoy a meatless BBQ. Wash it down with a
beer cocktail
!