I am a HUGE fan of Alton Brown and often stay up late watching his shows. I caught one on making
tomato sauce
and think (without being overly dramatic) it changed my life.
I bought 20 pounds of Roma tomatoes from the
Boulder Farmers Market
and got ready to make some sauce. 20 pounds of tomatoes turns out to be a lot of tomatoes.
Alton Brown's recipe
calls for 20 Roma tomatoes, cut in half and seeded. I used more like 60 Roma tomatoes, cut in half and seeded, and ran out of Pyrex baking dishes for roasting.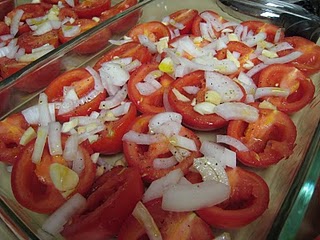 Just as a side note… I did not even come close to using all 20 pounds of tomatoes in this batch of sauce. The rest were used in a
Grilled Roma Tomato Sauce
, which turned out really good, so I repeated that recipe (basically tripled it) and made 4 jars to freeze for future use.
But, back to my Alton Brown-inspired sauce. I washed, cut in half, and seeded as many tomatoes as would fit in 6 Pyrex baking dishes. Then I coarsely chopped an entire bulb of locally grown garlic and a large yellow onion and tried to evenly distribute the garlic and onion throughout my 6 dishes. I drizzled olive oil over all of the tomatoes and sprinkled them with sea salt. It's really quite simple.
Then, into the oven! 2 hours at 325 is a long time, so don't plan to make this sauce if you need to leave the house.
I shuffled the baking dishes every 45 minutes or so to be sure they were evenly heated. After 2 hours, Brown suggests cranking the heat to 400 so the tomatoes caramelize for 30 minutes.
They come out of the oven looking beautiful and delicious. I let them cool and then scooped them in manageable batches into the
Vita-Mix
to blend them into a smooth sauce. This sauce, I must say, is FANTASTIC! Absolutely worth the time and effort, I promise.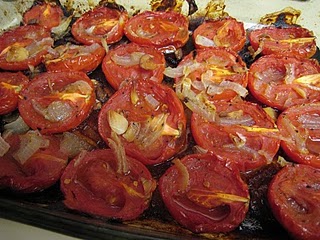 In the end, I wound up with these 4 jars, which I froze for future use. I will let you know how I use them.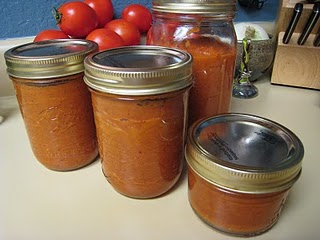 Happy cooking!