Taste 3- Get a little Old Fashioned
My third way to show him how much I care involves a tasty libation- a cocktail.  And not just any cocktail, but a classic… an Old Fashioned.
I used the recipe from Eric Felten's book "How's Your Drink?" and was pleased with the result.  According to Felten, in 1940 the New Yorker called the Old Fashioned "a national institution," and if you're going to make one at home, be sure to use American whiskey- either bourbon or rye.  I used Bulleit Rye because I like the spicy flavor and it's often a great price compared to other Rye Whiskies.
Felten's recipe calls for:
1 tsp sugar
2 dashes Angostura bitters
2 pieces of lemon peel
2 oz bourbon or rye whiskey
orange slice or maraschino cherry (optional)
First, put the sugar, bitters, lemon peel, and a couple drops of water in a glass and muddle it to dissolve the sugar. Then add the whiskey, ice, and stir…. I learned from Evan Faber to stir it 50 times, so I had fun with that. I skipped the orange and cherries and garnished it with a lemon twist.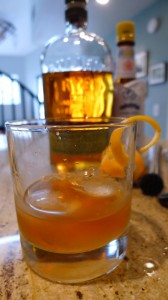 Enjoy responsibly.