I love stopping by the Black Cat Farmstand at the Boulder Farmers' Market on Saturday mornings to see what Chef/Farmer Eric Skokan is harvesting. I've been getting into the habit of letting him suggest I try something, and then I ask him how I'm going to prepare it. He almost effortlessly rattles off a recipe to highlight something seasonal, and I rush home inspired to try it. This past week I bought his first harvest of green beans. They were a light green color, which leads me to believe they have some special name other than "green beans," but for the purpose of this post, they were Black Cat Farm Green Beans. Chef Skokan suggested I blanch them, cool them off, and add them to a potato saldad in a mustard vinaigrette.  So, that's exactly what I did.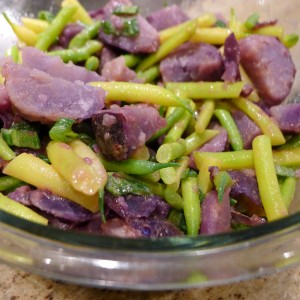 I bought a pound of local purple potatoes from the market that day and boiled them after blanching 2 big handfulls of the beans. When they were cool, I coarsely chopped them, mixed them with the green beans, and tossed them in a maple mustard vinaigrette. I let this chill in the fridge for a few hours before serving with turkey burgers and corn on the cob. A perfect summer meal. For a simple Maple Mustard Vinaigrette, whisk together:
 2 TB Grade B Pure Vermont Maple Syrup
2 TB Dijon Mustard
1/4 cup Walnut Oil
1 TB Apple Cider Vinegar
a splash of soy sauce
A farmhouse kitchen and pub… I dig the sound of that and I loved the food I tried during the industry soft opening on July 1. New restaurants need to ease in to their rhythm, but for a first night of service, you'd be surprised to discover Bramble & Hare hadn't been around for quite some time. Everything was on point, and our waiter- the esteemed Tyler Nemkov, former executive chef of Mateo Restaurant Provencal and part-time chef of Black Cat Bistro– delectably described all 14 items on the menu in a way that made me want one of everything.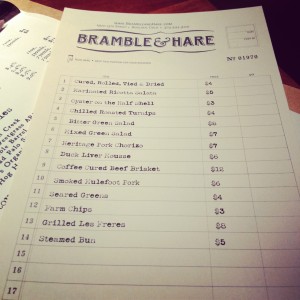 In good company, of course, we started out with the cocktail menu. I ordered A Welcomed Pause.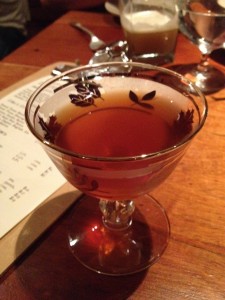 What's in A Welcomed Pause? I can't recall. Bourbon or Rye…  I didn't snap a photo of the cocktail menu, but that's OK for a couple reasons: 1. The cocktail program, overseen by Dev Ranjan (Sommelier of The Black Cat Bistro and Beverage Director for Black Cat and Bramble & Hare), is clearly one of the best in town. It's so good, I'm excited to announce Bramble & Hare will be a new stop on my Boulder cocktail tours.
After clinking glasses and saying cheers, we moved on to food. Tyler recommended we order one of everything on the menu. But, we limited it to 5 plates and a dessert.
A quick note on the menu: It's the coolest menu in town, and definitely one of the coolest I've ever seen. You get a mini pencil so you can write the quantity of each plate you desire to explore- it's a sushi-style-menu.  Also, the top is hand perforated so you can tear it off and keep that "portion for your records."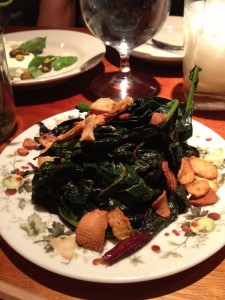 A plate of seared greens arrived first. I could eat these every day. I have three words that highlight this dish: crispy fried garlic.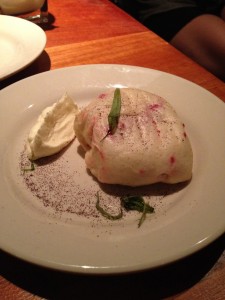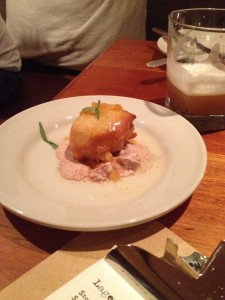 Next came a beet stuffed steamed bun and a doughnut with duck liver mousse. I didn't try the duck liver mousse… Not a big fan of liver… But the steamed bun is quite a unique vegetarian option. I'm hoping they play around with all kinds of steamed buns.
Since I was dining with Molly Browne, my Cheese Tasting Tour guide, we tried Bramble & Hare's grilled cheese sandwich. Let me just say it was the best grilled cheese ever and I'd go there any day for a grilled cheese rather than make it on my own… It was THAT good. This particular night they used a cheese called Les Freres, a European style farmstead cheese.
We also shared the chilled roasted turnips with were served with broccoli florets.
Dessert was definitely in order, so we indulged in a sour cherry pie.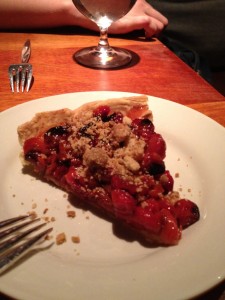 Chef/Owner/Farmer Eric Skokan has definitely introduced Boulder to a new style of restaurant and we're very fortunate. On his Black Cat Farm, Eric raises the animals and grows many of the vegetables served at both of his restaurants, so this is definitely farm to table.  But, the price point for each plate is really reasonable (in some cases quite low), which encourages ordering multiple small plates and sharing- a style of dining I prefer.
I'm looking forward to returning to Bramble & Hare. Looks like I have a new favorite spot in town.
1970 13th Street, Boulder CO
303-444-9110
Open 7 days a week. Lunch. Dinner. Late night (til 2 am).
I was thrilled last week to see beets for sale at the Black Cat Farm stand at the Boulder Farmer's Market.  I drizzled them with olive oil, roasted them in a foil packet at 400 for 35 minutes or so, peeled them, and devoured them on their own.  Delish!