Taste 6: Get the Vitamix Involved
If you read my blog and/or know me personally, you are aware of my love of all things Vitamix. So, after cookies, cocktails, and Frasca, it's time to demonstrate my appreciation through something healthy… like a veggie smoothie.
Into my Vitamix went a tangello, a kiwi, 3 carrots, 2 celery stalks, a handful of broccoli, 1/2 cucumber, some romaine lettuce, a cup or so of frozen pineapple,  1/2 jalapeño, and a few cups of water.  Turn that baby up to high and in 30 seconds or so…
Voilá. There it is. A veggie smoothie.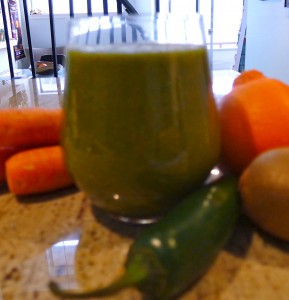 If you hang out with me, you're going to eat your vegetables.  Or drink them…