Taste 5: Frasca Food and Wine
For the fifth day of my 14-part series of giving him a taste of just how much I care, I had plans to cook dinner, as usual.  I finished guiding a dining tour, got home, and started to prep. Then he walked in and said, "Baby- you've been cooking so much for me… Why don't I take you to Frasca tonight?"
Um… yeah. Sure… Definitely.  You want to take me to Frasca? Let's go and enjoy Frasca. Yes, Please, Thank You.
And that's what we did. We walked two blocks from my home to Frasca in the midst of a snow storm and wound up enjoying ourselves tremendously.  The snow did not stop, and perhaps it's partially responsible for our fantastic dining experience.  The restaurant, only half full during a seemingly never-ending storm, was a spectacular place to watch the 18+ inches of snow accumulate. In fact, the snow reached 16.5 inches while we were there, which I only know because owner and Master Sommelier Bobby Stuckey went outside with a tape measure while most tables in the restaurant were talking back and forth guessing how much snow had fallen.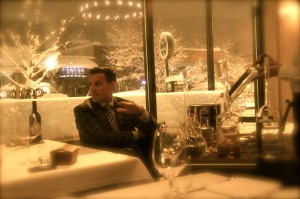 Frasca Food and Wine may be described as a quintessential dining experience, and I would agree.  An experience it is. We were there for more than four hours, attentively served course after course, libation after libation… and left with no complaints at all except that, by close to midnight, it was time to go home.
As I said, dining at Frasca is a gustatory experience akin to a carefully orchestrated symphony.  It is possibly the food equivalent to live music. Just as one leaves a world class philharmonic praising the seemingly perfect performance, if you take note as a diner, everyone involved in the dining symphony at Frasca performs nearly perfectly in solos, duets, and as an ensemble.  I'm not just talking about checking coats, pouring water, and serving bread in a timely fashion.  Water glasses seem magically filled (with either still or sparkling… whichever you prefer… ours will always be sparkling), the table is crumbed, napkins folded when you step away from the table, questions answered, conversations encouraged and welcomed.
I'm not going to offer a standard restaurant review, nor recount the evening course after course. I'll save that for another day… for another feast. Instead, I'd like to share with you some photos that Giovanni Castillo shot of our snowy evening and let the photos tempt you to choose Frasca next time you feel like thoroughly enjoying your meal.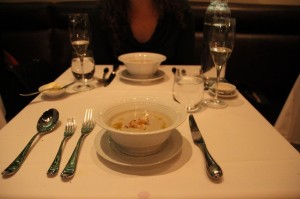 Giovanni ventured into the kitchen with his camera.  Notice there's a dining table in the kitchen.  I'd like to dine there, I think.
He also got a shot of one of our dishes being plated.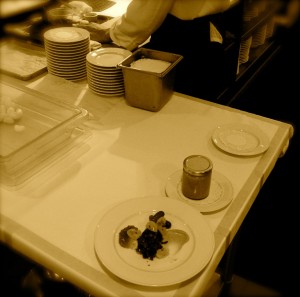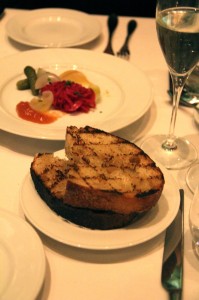 There's a reason this restaurant is named Frasca Food and Wine.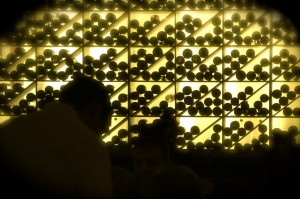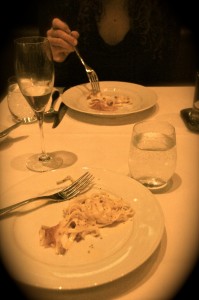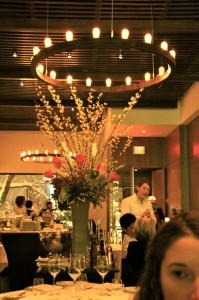 Reflections make angels, which come in handy when dessert is sinfully good.
From wine to Prosecco to Port to…. the new digestivo cart. Grappa, anyone?  I tried a merlot Grappa. This cart alone offers a number of reasons to return to Frasca.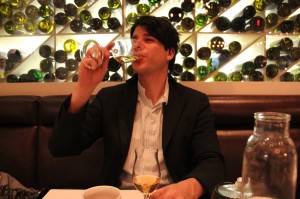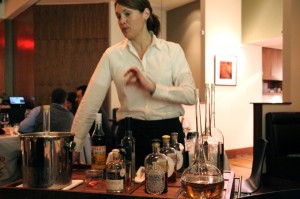 And I'm looking forward to it…
Frasca Food & Wine 1738 Pearl Street, Boulder, CO 80302 303.442.6966
Photo Credit: Giovanni Castillo