I finally did it. I bought fava beans at the market. I've been in Boulder for 5 years, which means I've been going to the market for five years, and every summer those big, thick fava beans frightened me. I don't know why. They are now a new favorite of mine.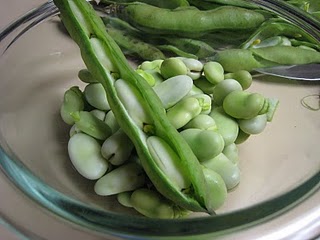 I did some research on these beans because I brought some home and had no idea what to do with them. It turns out that they are a very old bean that had been a staple in Europe way back in the day. Europeans brought them to America, but they were not necessarily a food that caught on with the mainstream. Basically, we don't eat them as often as we eat black beans, pinto beans, etc.
But, in my humble foodie opinion… we should. Just take the time to do the following steps:
1. Slice open the pods as seen in the photo above. Remove the beans.
2. Par-boil the beans for a couple minutes. Then drain them and remove the outer waxy coating to get to the real bean.
3. Bring them back to a boil for a few minutes to make sure they are cooked.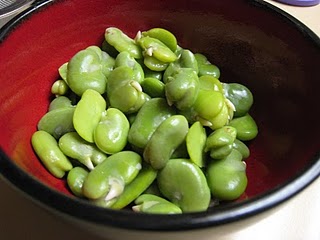 I took my beans, put them in a food processor with some olive oil, 2 garlic cloves that I had peeled and boiled for a few minutes with the beans, and a little freshly grated parmesan.
Puree it and generously spread these green legumes on toasted bread. (My bread here was grilled, which is even better!)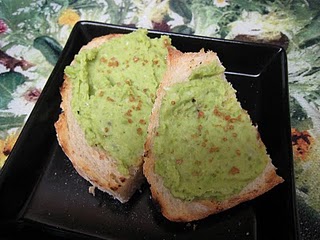 The finishing touch here was some Red Alae Hawaiian Kai Sea Salt from nowhere else than my favorite place:
Savory Spice Shop
.