Sean and I had the honor and privilege of being flown down to Texas to cook for one of our clients. We've had the pleasure of cooking for them a number of times in Boulder, but never for their friends in Texas. After a brief discussion with the hostess, he planned a spring-themed menu. We had the interesting opportunity to shop in the enormous (which is an understatement) Whole Foods in Austin, drive out to a ranch about an hour away from the city, and experience the peacefulness of a Texas ranch during a few breaks in our marathon of a day.
We started with some h'ordeuvres: a cheese platter and smoked salmon toast points. I was in charge of the cheese platter and followed his directions on the smoked salmon toast points topped with chives and capers. These were ready for the guests upon arrival with a little bubbly to get the book club gals talking.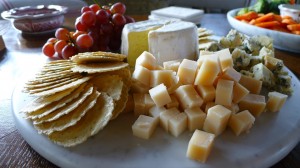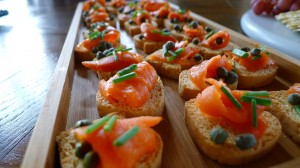 After a bit of nibbling and socializing, we steered our guests to the dining room for our first course: chilled pea soup with creme fraiche and mint.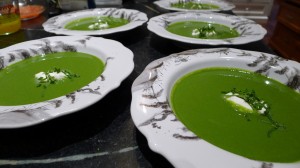 Our second course was an arugula, endive, and grapefruit salad in a citrus vinaigrette.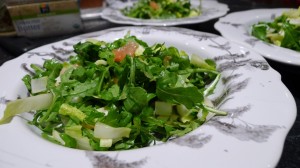 Our entree was a citrus brined chicken breast on risotto with grilled asparagus and a citrus olive relish. I must declare- the chicken came out perfectly. I ate an entire portion and had to show serious restraint to not dive into a second.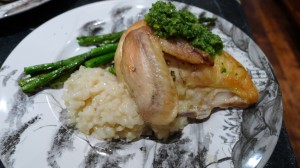 Dessert was a pound cake (I made it!) topped with hand-whipped cream and the last jar of Sean's Western Slope peaches in vanilla syrup that he had canned in Boulder last summer and brought with us to Texas.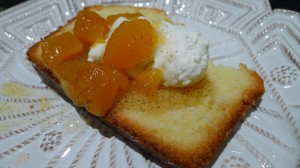 In the end, we had a fantastic time working together, hanging with the homeowners, and staying the night deep in the heart of Texas. We can't wait to do it again!