Veggie Shepherd's Pot Pie
I must admit- I've really started slacking at cooking since Sean and I met. He's such a talented chef and spent the last year cooking for us many nights each week, regardless of his work schedule. All of that changed since taking on his new role as Kitchen Manager at Zeal. He spent a month getting the place up and running and now, almost two months into his new job, is hardly ever at home, so I have stepped back into my role as an avid home cook. He deserves it, and it's fun for me, too.
As it's winter, I thought something hearty would be enjoyed for dinner. I'm calling this one a Veggie Shepherd's Pot Pie. It is pretty easy to prepare, but takes some time, so allow a few hours from start to finish.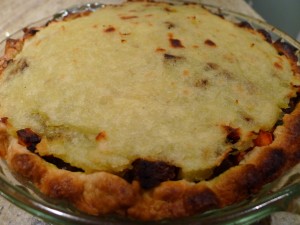 First, I made the pie crust by basically following THIS RECIPE but adjusting it for just one cup of flower. After making the dough, I let it sit in the fridge for a little over an hour to chill.
While the dough was chilling in the fridge, I started chopping a yellow onion, four or five stalks of celery, four rather large carrots, and a peeled garnet yam. I added these to a sauté pan with a little olive oil and let them slowly start to cook. Next, I chopped up two Smoked Apple Sage Sausages (vegan sausages, of course) made by Field Roast, an artisan grain meat company. Sean introduced me to this company and I've come to really enjoy some of their products. It's not typical fake meat trying to imitate meat and meat products. Field Roast makes a variety of sausages that are clearly not meat, yet are versatile and tasty additions that complete many of our vegetarian dishes here at home. And, the ingredient list on their sausages meets my high standards.
So, into the pan went the chopped sausage, a few splashes of homemade veggie broth, and I let this all cook on medium for thirty or forty minutes. Then I salted and peppered to taste, added a pinch of dried crumpled sage, a little parsley and thyme. I chopped a handful of kale and added it to the mix at the end and took my pan off the heat. It was now time to roll out my dough, make my bottom crust in a pie pan, and add the filling.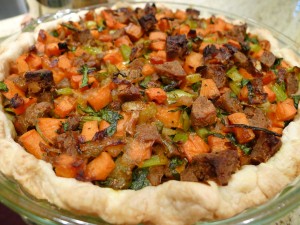 Don't forget to PREHEAT THE OVEN, by the way, to 350 degrees.
I boiled water and cooked a white Hannah yam while making the filling, but set it to the side for the first 15 minutes the pie was in the oven. When the yam was cool enough to touch, I mashed it and spread it over the pie (which I had briefly taken out of the oven, of course) and then let it bake until the top was starting to develop a crust and turn brown and the pie crust was golden and crispy (20 more minutes or so). The look on Sean's face when he returned home after another fifteen hour work day was all I needed to know I had really shown him how much I care. After all, we all know the way to a man's heart…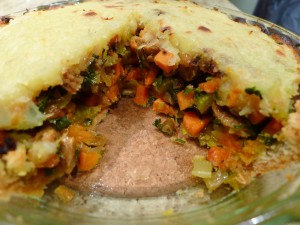 One slice of this was definitely not enough for either of us. I must admit- this was one of my best dishes in a long time.