Rhubarb Pie
Chef Sean Smith is a fan of Martha Stewart's recipes because they are easily multiplied. That essentially means she nails the ingredient ratios so if you're making a double or triple batch of cookies, you can be confident that doubling or tripling her recipe will end up with something delicious. So, when I was tasked with making a pie for our clients, I went right to Martha.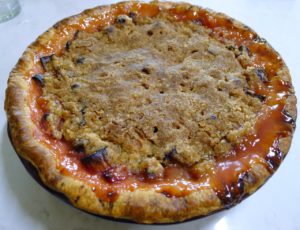 The recipe starts by suggesting you make this pie the day before you plan to serve it, which is exactly what I did. I suggest you make your pie crust first and keep it cold in the refrigerator. Make your crumble topping second and keep it cold in the fridge as well until you're ready to sprinkle it on top of the filling. Below you'll find three sections: dough, filling, and crumble topping.
Ingredients for the Pie Dough:
2.5 cups all-purpose flour
1 teaspoon sugar
1/2 teaspoon fine salt
2 cups cold butter, cut into small cubes
1/4 (or a little more if needed) ice water
The easiest way to make dough is to add the flour, sugar, salt, and butter to a food processor and give it a whirl. Then slowly add the ice water until it's dough. Finish by forming it into a ball, wrap it in parchment paper, and refrigerate until you're ready to use it.
Ingredients for the Pie Filling:
All- purpose flour, for dusting
1 3/4 pounds (approximately 6 cups) rhubarb with the ends trimmed and cut crosswise into 3/4 inch pieces
1 cup sugar
2 tablespoons cornstarch
Pinch of salt
Ingredients for Crumble:
3/4 cup flour
1/3 cup packed light brown sugar
3 tablespoons sugar
pinch of salt
6 tablespoons chilled butter
And now to make the pie! Here's my pie before baking, just for reference.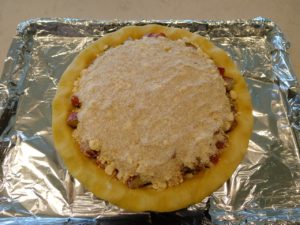 Place the pie dough on parchment paper and roll it out to fit in a 9 in pie pan. Fit the dough into the pan, trim/crimp your edges, and refrigerate for an hour.
Preheat oven to 400 with the rack at the lowest level.
Add the crumble ingredients to a bowl and mix until the butter is somewhat evenly distributed. Chill in the fridge until you reach step 5.
In a large bowl, toss the rhubarb with sugar, cornstarch, and salt.
Pour filling into the pie crust, distribute it evenly, and sprinkle the crumble topping on top.
Place pie pan on a foil-lined rimmed baking sheet. This is important as it will help clean up be a synch!
Place your pie in the oven and lower it to 375 degrees. Bake for approximately 1.5 hours and cool completely before serving.