The first thing Sean said upon tasting the Cosmic Maple Masala Pecans by Olomomo Nut Company was that they'd make a great crust to something. Indeed they did with the addition of Szechwan Peppercorns from Savory Spice Shop.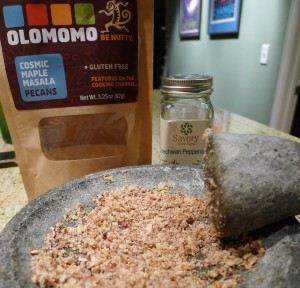 He ground them in our mortar and pestle, and then crusted some extra firm tofu that had been (of course) frozen, thawed, and pressed. The tofu pieces were crusted and pan fried in peanut oil until oh-so-gorgeously golden brown.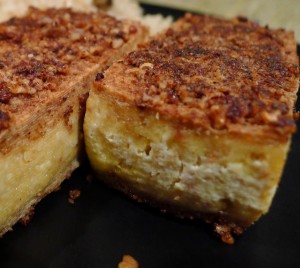 These were a perfect accompaniment to sautéed greens and brown rice. Nothing fancy, but a somewhat effortless great meal thanks to the maple masala crust.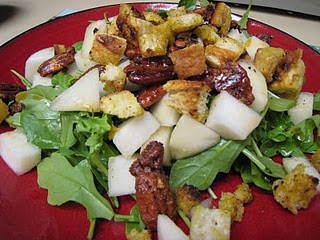 Maple Curried Pecans
, sweet Oregon pears, and curried croutons make this arugula salad one of my favorites.
There is a link to my Maple Curried Pecans for that recipe. For the croutons, I cubed 2 cups of some fresh italian bread and pan fried it on medium high in 1/4 cup olive oil and 2 TB Vietnamese Sweet Lemon Curry, 1/2 TB garlic powder, and 1/2 TB onion powder from
Savory Spice Shop
. After a few minutes, lower the heat to medium and stir somewhat frequently so they don't burn. They should be done if 15 minutes or so, depending on how crunchy you like them.
For a dressing, I whisked a little maple syrup, walnut oil, and cider vinegar for a simple and sweet balance to the bitter arugula. Enjoy.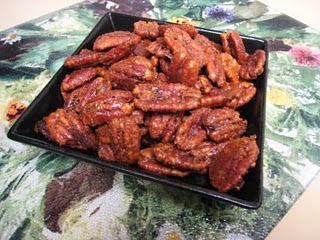 I love making these for Thanksgiving and Christmas. They are addictively delicious.
This recipe is for 1.5 cups of Pecans. It is easy to make a big batch, and the proportions can be tweaked according to taste. I always use the same ingredients, but make them slightly differently, by adding more or less of something. So, have fun with them and enjoy.
Melt 2 TB butter in a sauce pan. Add raw pecans and coat. Add 2 TB maple syrup and coat again. Then 1/2 TB each of curry powder, onion powder, and garlic powder. Mix well. Then 1 tsp sea salt, 1/4-1/2 tsp cayenne (depending on how spicy you like them). Mix this all well and spread a single layer on a baking sheet (covered in foil to make clean-up easy) and bake at 250 for 15-20 minutes. Let them cool and enjoy on their own, on vanilla ice cream, on an arugula and pear salad… there are many options.