We had just over an hour in Poole, so we ducked into a pub for a warm, flat beer, and checked Trip Advisor to see what sounded good. The Courtyard Tea Rooms came up as number 3 and had such great reviews, we decided to go there.
There are two rooms inside and an outdoor courtyard for dining or enjoying a tea service. As we walked through the first dining room into the kitchen, it became clear that this establishment had been a home and was converted to a restaurant. The woman working in the home-style kitchen was cooking all of the food and baking all of the cakes in what was hardly larger than most Americans' kitchens.
I had a fun time being introduced to Fentimans, a botanically brewed beverage. When it's served, it comes with a quirky card.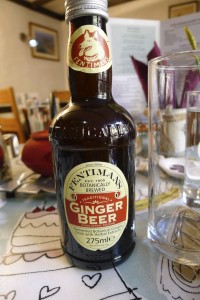 I advise reading the card and following the directions for a cute little laugh.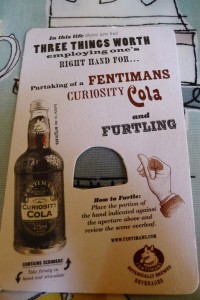 The card suggests that one's right hand is very useful for FURTLING, which, you'll find, it is.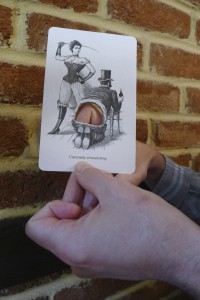 I ordered the soup of the day, which was vegetable soup, and it was served piping hot with freshly baked bread.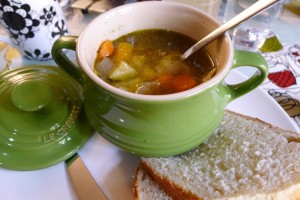 Fresh and delicious. Next was a cheese and spicy chutney sandwich with a side salad.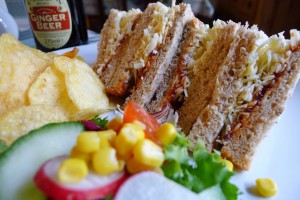 Sean opted for the frittata of the day, also served with a side salad.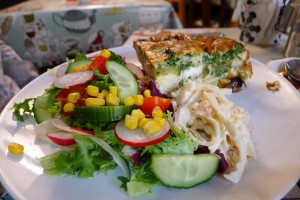 The service was spectacular, the food was fresh and well prepared, and the owners are clearly hard-working and love what they do. We were so glad to have trusted the good old Trip Advisor recommendations on this one.
I hadn't planned to blog about this dish, but it was so simple and good, I thought- Why not?
Kale was on sale at Whole Foods, so I came home with more kale than a single woman can consume without juicing it. That meant kale was going to be added in to whatever concoction I came up with for dinner. I also had a dozen eggs I hadn't even touched in a week, so I decided to throw together an egg-based baked dish (or baked frittata, if that is even a culinary possibility, as frittatas are traditionally skillet-fried…) But, I'm calling this dish a Sweet Potato Kale Frittata. Sorry that it's technically not a frittata.
I sautéed half of a chopped red onion in a few tablespoons of olive oil, and then added a peeled and cubed white sweet potato (2 cups or so). When the potato was soft, I added a couple cups of thinly sliced kale and a half cup of chopped parsley. Next, I transferred the potato kale base into a bowl and mixed it with 6 eggs that had been whisked with a few tablespoons of olive oil and a little bit of grated white cheddar cheese. After all of the potato and kale mixture was coated with egg, I salted, peppered and poured it into a pyrex baking dish.
I baked it for 40 minutes or so on 350 and it came out perfectly, which could have been a fluke as I was on the phone the entire time and not even paying attention to the oven.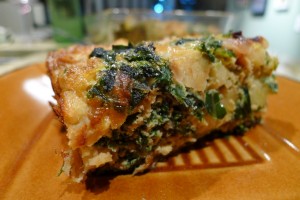 As I was in a no-frills cooking mood, I topped it with my favorite condiment: Ketchup mixed with Red Rocks Hickory Smoke Seasoning from Savory Spice Shop. You can't go wrong with that combo.
Cheers!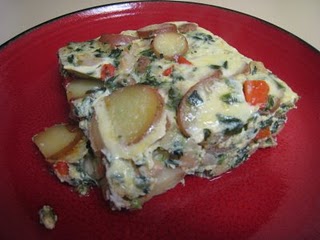 This is a good dish to make when you need to finish up some eggs that have been sitting in the fridge for a while. Or, for anyone who really likes eggs. I'm not that into eggs, but I enjoy a good frittata or omelette once in a while.
Ingredients:
Potatoes (I used local Colorado red, fingerling. Any potato will do, but I would not personally use Russet)
Onion (I used a white onion, but, like the potato, any type of onion will work)
Veggie Broth (if you don't have homemade broth, I like 365 brand)
Cannellini beans
Spinach (fresh or frozen chopped)
6-8 Eggs
Pepper ( I used a red pepper, but any pepper will do)
Jalapeño
Garlic
Parmesan cheese, shredded
Crushed red pepper flakes
Sea Salt
Fresh ground Black Pepper
Olive Oil
Chop the entire onion, and sauté in in veggie broth (no oil) until soft. Add chopped potato (3-4 cups). I sliced it, but cut it up any way you like, as long as the pieces are relatively small. Add more veggie broth and cook, covered, until the potatoes start to soften. Add a handful chopped spinach, some sea salt, crushed red pepper flakes, and grind some black pepper. Add drained and rinsed cannellini beans, and take off heat to cool slightly.
In a large bowl, beat the eggs with 1 cup veggie broth and 1/4 cup olive oil. Add as much chopped jalapeño as you like, the chopped red (or any color) pepper, a clove or two of chopped garlic, a large handful of Parmesan cheese, some more red pepper flakes, and more ground black pepper. Mix well. Next, add the potato concoction and mix well into egg mixture. pour into a large Pyrex baking dish and bake at 375 until it talks to you (sizzles) and most of the extra liquid is gone (45-55 minutes).