Sweet Potato Kale Frittata
I hadn't planned to blog about this dish, but it was so simple and good, I thought- Why not?
Kale was on sale at Whole Foods, so I came home with more kale than a single woman can consume without juicing it. That meant kale was going to be added in to whatever concoction I came up with for dinner. I also had a dozen eggs I hadn't even touched in a week, so I decided to throw together an egg-based baked dish (or baked frittata, if that is even a culinary possibility, as frittatas are traditionally skillet-fried…) But, I'm calling this dish a Sweet Potato Kale Frittata. Sorry that it's technically not a frittata.
I sautéed half of a chopped red onion in a few tablespoons of olive oil, and then added a peeled and cubed white sweet potato (2 cups or so). When the potato was soft, I added a couple cups of thinly sliced kale and a half cup of chopped parsley. Next, I transferred the potato kale base into a bowl and mixed it with 6 eggs that had been whisked with a few tablespoons of olive oil and a little bit of grated white cheddar cheese. After all of the potato and kale mixture was coated with egg, I salted, peppered and poured it into a pyrex baking dish.
I baked it for 40 minutes or so on 350 and it came out perfectly, which could have been a fluke as I was on the phone the entire time and not even paying attention to the oven.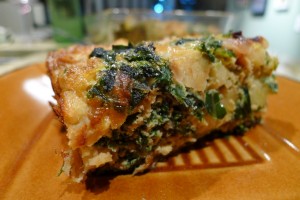 As I was in a no-frills cooking mood, I topped it with my favorite condiment: Ketchup mixed with Red Rocks Hickory Smoke Seasoning from Savory Spice Shop. You can't go wrong with that combo.
Cheers!