Panko-Crusted Goat Cheese Sandwich
This was a really easy open-faced sandwich that I'll likely start making somewhat frequently.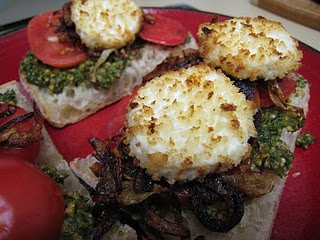 First, make some
Cashew Pesto
and spend the 30-40 minutes to
caramelized a cipollini onion
. Then, slice some goat cheese 1/3 inch thick. I had a log of
Haystack Mountain Dairy's
Boulder Chevre, which I LOVE! Dunk the pieces in heavy whipping cream, roll them in panko, and bake on a parchment lined baking tray at 300 for 15 minutes of so. Flip once. You can bring them to the broiler for browning if you'd like.
Toast some bread- I had a ciabatta roll that I toasted. Then spread some cashew pesto, add sliced tomatoes, caramelized onions, and panko-crusted goat cheese.
Yum!