Sweet Baked Turnips
Now here's a good way to eat your turnips. I had 2 bunches of turnips that I got over 2 weeks from
Ollin Farms
' CSA. So, part of my CSA Challenge was figuring out what to do with turnips. To be perfectly honest, I thought I was sick of turnips. I got a bunch of scarlet queen turnips one week and they sat in my fridge until the following week when I got another bunch. I officially had more turnips than I could eat… or so I thought.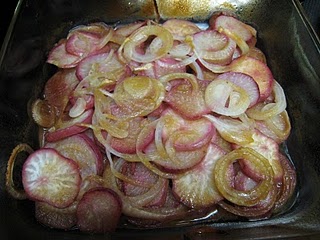 I sliced them and a local walla-walla onion I got at the
Boulder farmers market
, and tossed them in a dressing of:
2 TB Worcestershire
1 TB dijon mustard
3 TB heavy whipping cream
3 TB maple syrup
1 TB olive oil
1 TB grated parmesan
fresh ground black pepper
I then covered the turnips in foil and baked them at 375 for 30 minutes (I think… might have lost track of time on this one, so watch them) until they were soft, sweet, and starting to caramelize. These turnips were deliciously sweet and I now know my favorite way to prepare those sometimes unpleasant root veggies.