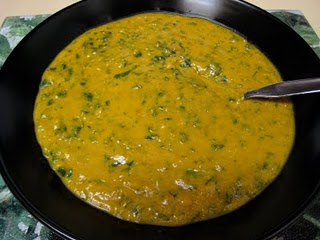 Soup-er easy. Especially if you already steamed a pumpkin and carved out the flesh. I am totally put-off by canned pumpkin, so I took the extra time to slice a pie pumpkin in half, scrape out the seeds, steam it for 30 minutes or until it is falling out of the skin, and finally remove the skin. I think that is the secret ingredient to this simple recipe.
Ingredients:
1/2 red onion, chopped
4 cloves garlic, chopped
The cream from the top of 1 small can (5.46 oz) coconut milk, left undisturbed for at least 2 hours
2 cups cooked fresh pumpkin
1/2 cup water
1 cup water
1/2 cup crunchy natural peanut butter
2 TB soy sauce
2 TB Kecap Manis (found in your local Asian food market)
2 cups frozen spinach (fresh would be better if you have it- chopped)
a pinch or more of Cayenne pepper
In a sauce pan, heat half of the coconut creme on medium high and add the onions and garlic. Saute a few minutes before adding the pumpkin, coconut "milk" or "water" and 1/2 cup water. Heat this thoroughly and transfer to a food processor to puree the base with 1 more cup of water and make it smooth.
Next, pour it back into the pot, turn the burner to medium high again, and add the peanut butter, soy sauce, curry powder, and sweet soy sauce. When it is hot and the peanut butter is evenly distributed, add the spinach and cayenne. Bring the soup close to a boil, remove from heat, and serve. I served this with coconut basmati rice and peas.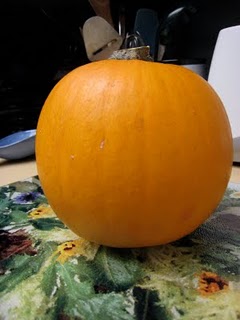 This was my first month participating in
Taste and Create
, which pairs up fellow food bloggers to prepare someone else's dish and blog about it. I was paired up with
Love Big, Bake Often
, and chose to re-create some pumpkin scones since it is indeed pumpkin season.
Here's my adaptation of the recipe:
2 cups whole wheat pastry flour
1 tsp cinnamon
1/4 tsp nutmeg
1/4 cup evaporated cane juice
1 tsp baking powder (1.5 for everyone not living and baking at altitude)
1/8 tsp baking soda (1/4 for lower elevation)
a pinch of sea salt
1/2 TB grated fresh ginger
2 TB chopped candied ginger
5 TB butter, cold, cubed
1/2 cup buttermilk
1 TB maple syrup
1 tsp vanilla
1/2 cup pumpkin (from a real pie pumpkin that has been cut in half, seeded, boiled, and skinned. Trust me, it is worth the extra effort.)
1 TB heavy whipping cream
raw sugar
Preheat oven to 400 and lightly butter a scone tray (if you have one- otherwise, a baking sheet will do just fine).
In a large bowl, combine the flour, cinnamon, nutmeg, sugar, baking powder, baking soda, salt, fresh ginger, and candied ginger. Mix this evenly with a wire whisk or fork. In another bowl, mix the buttermilk, maple syrup, vanilla, and cooked pumpkin.
Cut the cold butter cubes into the flour mixture with two knives or your hands. The idea is you don't want to melt the butter by squeezing it between your fingers. You want the butter to stay relatively cold, so using two knives keeps the heat of your hands away. Regardless, mix this well until the texture becomes crumbly and there are no large chunks of butter. Then add the wet ingredients, mix together, and knead a few minutes to work the dough.
If you have a scone pan, divide the dough into the individual sections. If not, place on a lightly floured cutting board, slice it into even pieces, and place on your cookie sheet. Brush the tops with cream and sprinkle with raw sugar. Bake until a toothpick inserted in a scone comes out clean.
If you'd like to make them sweeter, I made a sweet, light glaze to drizzle over them from 1/4 cup un-sweetend rice milk (use real milk if you have it), 1/2 cup powdered sugar, and 1 TB maple syrup. These scones didn't really need a glaze, but the original recipe had one, so I made a dessert-like topping that came in handy when we ate them for a late night snack.