After purchasing a bottle of W & J Graham's 2007 Vintage Port, I knew I had to get over to Cured for the quintessential port pairing: Stilton.  I figured it wouldn't hurt to ask owner and cheese connoisseur Coral Frischkorn for a couple other cheeses to enjoy with this fine port wine.  She suggested Cabot Clothbound Cheddar and Cremont in addition to a nice piece of Stilton.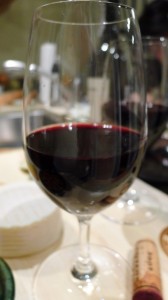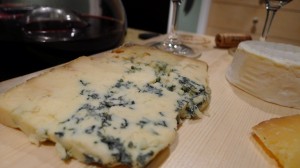 There's one thing I've come to believe about Cured: They know their cheese, how to pair it, and will not steer you wrong.  That's why we also picked up some spiced nuts the sell there at Cured from the kitchen of Mateo,  which is located a few doors down.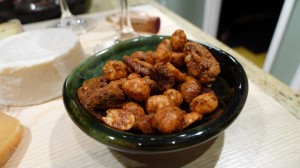 This made a delicious pre-dinner indulgence with a thinly sliced baguette.  I also had Patti Miller's port jelly and prosecco jelly , so we had fun "Spreading the Booze."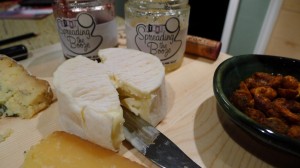 So, for my 14 tastes of how much I care, tastes numbers nine and ten (Port and Cheese, respectively) were  fun, interactive taste sensations.  I do suggest you enjoy a wine and cheese pairing at home sometime soon.  It turns an average night into a festive occasion. I'm already planning my next one…
Port has been a libation in my life lately because it's one of his favorite after dinner drinks.  The word also seems to come up frequently in conversations, like when my dad told me I'm a sailor who's been out to sea and is now in port…enjoying myself, of course, before heading back out to sea. Or, an esteemed sommelier friend who compared love to a "port" during a storm… I suppose it turned out to be an opportune time to add a bottle of Port to my bottle collection, or home bar.
I asked him if he preferred a Ruby or Tawny Port, and he said Tawny.  Easy enough… right? I rode over to The Boulder Wine Merchant because that is the place to go in town if you have serious wine questions. After a 30 minute discussion/lesson on Port wine, I decided to buy a Graham's 2007 Vintage Port.  Here's why: If it's a remarkably noteworthy year, they bottle a "Vintage." Otherwise, it becomes a Tawny or Ruby.  The W & J Graham's website says "2007 will be remembered particularly for its cool, damp summer. Nice long periods of sunshine in September and October allowed ripening to proceed normally, and although a bit later than usual, the vintage took place under perfect conditions, the fruit being beautifully balanced."
I also decided it was appropriate to enjoy this fine port in proper port glasses, so I bought a couple beautiful Riedel port wine glasses from The Peppercorn.  And, of course, we headed right over to Cured for the tenth taste of how much I care…