I've had to work with turnips a lot lately since I got a ton of them through my CSA. I decided that if I'm going to eat them, they need to be a little sweet, so I always turn to my trusted sweetener: Maple Syrup.
In the fridge I had turnips and brussel sprouts. Why not combine them?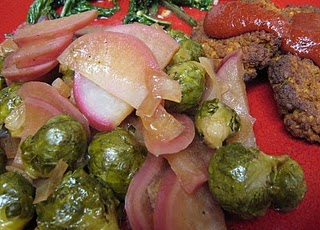 I sliced the turnips and 1/2 of an onion, then put them in a baking dish with some brussel sprouts. Then tossed it all in a little heavy whipping cream, a drizzle of maple syrup, and a splash of Worcestershire. Nothing needs an accurate measurement- just drizzle and mix and get it moist. Then cover with foil and bake at 375 for approximately 40 minutes. Sprinkle with sea salt and pepper and enjoy.