Apple-Baked Brussel Sprouts
There is something about fresh, local, organic, seasonal brussel sprouts. I look forward to them each year.
For this dish, I put 1 pound of brussel sprouts in a baking dish with a sliced apple and a diced yellow onion. I tossed it in approximately 1 TB of heavy whipping cream, 1 TB of local honey from
New Moon Farms
, and a pinch of Red Algae Hawaiian Kai Sea Salt.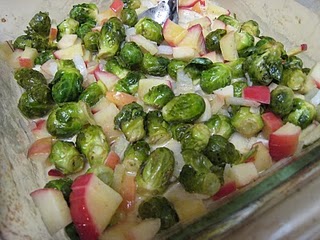 Cover with foil and bake at 350 for 30 minutes or so, until the brussel sprouts are tender. I served this with Honey Mustard Roasted Chicken. Great meal!