Spice Club
The first rule of Spice Club? Talk about Spice Club!
That's the first thing I read when opening one of my envelopes containing three months of seasonings and recipes as a sample of the new Savory Spice Shop Spice Club.
What is Spice Club? It's a monthly spice subscription service that delivers you a different handcrafted seasoning and an herb or spice with a recipe featuring the selected seasonings and spices. Found yourself in a recipe funk and don't know what to make? Try out something new that was just delivered to your door. I like this idea!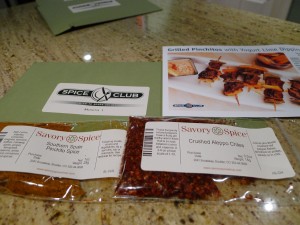 Above is a photo of one month's Spice Club delivery. It's a bag of Southern Spain Pinchito Spice, which I've never tried but have always been curious about trying, and a bag of Crushed Aleppo Pepper, which I always keep in my pantry and welcome the refill. The recipe card is for Grilled Pinchitos with Yogurt Lime Dipping Sauce. One side of the card explains the spices, and the other has a recipe that can be made with beef, pork, lamb, chicken, or as a vegetarian fare.
We're really looking forward to exploring these new spices, so stay tuned to see what we make here at home.
In the meantime, check it our for yourself on Savory Spice Shop's Website. I think my holiday shopping just got a little easier this year!