Fire Cider
We received a small bottle of something called Fire Cider for Christmas. I'd never heard of this before, so I immediately opened it up for a taste.
WOW! It's incredible. It's a savory, tangy, spicy vinegar concoction believed to have health benefits if drunk regularly. The ingredients were straightforward, I just bought a food processor (finally!), so I figured I'd start making my own so I can consume this daily.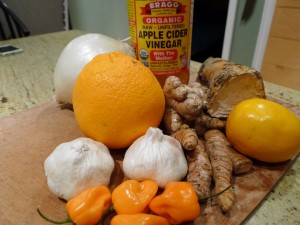 What you see is what you get: Onion, orange, horseradish, ginger, lemon, garlic, habañero, turmeric, and apple cider vinegar.
I quartered and sliced the orange and lemon, and de-stemmed and sliced the peppers. Other than that, I peeled the other ingredients and shred them in the food processor. Add it all to a jar, add some peppercorns, cover in vinegar, and wait one month.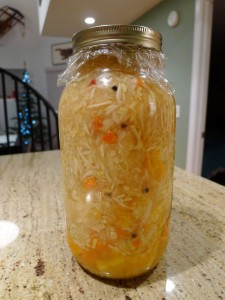 Here's what I learned from the inter-webs: Plastic wrap prevents the lid from being corroded from the vinegar. It needs to be shaken up daily while it's infusing over 3-6 weeks. Bragg raw unfiltered apple cider vinegar with the 'mother' is the ideal vinegar to use for fire cider. When it's ready to be consumed, strain it in a colander with cheese cloth to squeeze every last drop and then transfer to a sterile jar and add local honey to make it as sweet as you like. It can be stored in the fridge for up to one year, though that will never happen in my house.
I'll update this post in February when it's done. I can't wait!