Turkey Meatballs in Grilled Roma Tomato Sauce
I am so glad I made a huge batch of my
Grilled Roma Tomato Sauce
and froze a number of jars because it went really well with my turkey meatballs.
For the meatballs- start with 1 pound of ground turkey thigh in a large bowl. To that, add:
2 cloves garlic, chopped
1/2 small onion, chopped
a few tablespoons of chopped fresh basil
pinch of sea salt
fresh ground black pepper
Mix this all well with your hands and form golfball-sized meatballs on a separate plate.
Heat 4-5 TB olive oil on medium-high heat in a heavy skillet. When hot, add the meatballs and let them cook a few minutes before rotating them a bit. I like to brown mine on all sides and I'm not too picky about little pieces falling off of some meatballs as I flip them. After 10 minutes or so, add 1/2 cup red wine, let it start to sizzle like crazy, cover, and reduce the heat to medium. Let this cook a few more minutes and then add it all, and I mean ALL… pan juices, burnt-to-the-bottom turkey bits, etc. – to a pot of hot Grilled Roma Tomato Sauce.
Finish cooking the meatballs all the way through in the sauce. Serve with warm crusty bread, parmesan cheese, and whatever else you like.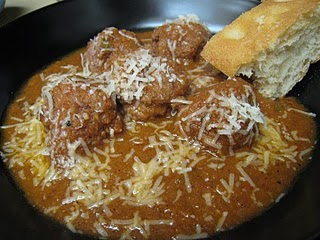 Enjoy.