Chef Sean Smith and I, besides helping others throw exciting dinner parties, like to throw dinner parties at our own home. He's usually in charge of every course, but he asked me to make dessert for our Greek-themed party a few weeks ago. I searched through dozens of Greek dessert recipes looking for something without filo dough and for a dessert that I could make in a reasonable period of time as real estate is very valuable and limited in our tiny kitchen.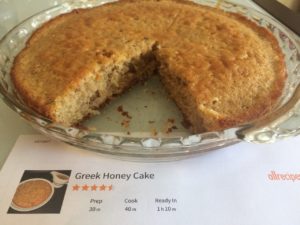 I found a Greek Honey Cake recipe on Allrecipes that I just loved and it's definitely one we'll make in the future for clients. Maybe next time I'll remember to snap a photo before eating a piece as well!
Ingredients:
1 cup all-purpose flour
1.5 tsp baking powder
1/4 tsp salt
1/2 tsp ground cinnamon
1 tsp orange zest
3/4 cup butter
3/4 cup cane sugar
3 eggs
1/4 cup milk
1 cup chopped walnuts
3-4 tablespoons honey
Directions:
Preheat oven to 350 degrees. Grease and flour a 9 inch square or round baking dish.
Combine the flour, baking powder, salt, cinnamon, and orange rind. Set aside.
In a stand mixer, cream together the butter and the 3/4 cup of cane sugar. Add in the eggs, one at a time.
Beat in the flour mixture alternatively with the milk, mixing just until incorporated.
Stir in the walnuts.
Pour batter into the pan and bake for 40 minutes, or until a toothpick inserted into the middle comes out clean. Allow to cool at least 15 minutes before cutting.
Drizzle honey over the top of cut pieces of cake and enjoy.