The pizza renaissance or revolution that swept through Boulder and Denver a few years ago really sparked an interest in us to explore some of the original American pizza artisans (which brought us to The Original Frank Pepe Pizzeria, New Haven, CT) and some of our contemporary pizzaioli (Pizzicletta, Flagstaff, AZ). So, it only made sense that we'd end up in Chicago sooner rather than later.
Sean's quite seasoned on Chicago dining, whereas I'd never been to The Windy City. He suggested we start off our long weekend at Piece for two reasons: #1- It's a great pizzeria and brewery, winning many awards for its beer over the years. #2- He needed a new t-shirt as his old Piece shirt was stained.
I noticed as soon as we sat down that the menu says "New Haven Style Pizza," so our September 2013 trip to Frank Pepe's was clearly a good place to include in our pizza tasting journey.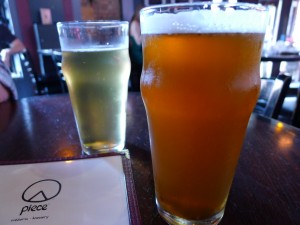 We started off with a couple pints and then discussed the menu. We didn't stick to our routine of trying the margherita pizza (or in this case, their "red" pizza). We went with a white pizza topped with roasted red peppers and basil.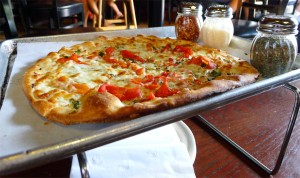 Served on a sheet tray, this pizza is reminiscent of Frank Pepe's and has a similar crackly thin crust, but, it's less charred. I like that Piece acknowledges it's east coast inspiration, and it's clear that it's doing something right as 2014 marks Piece's thirteenth year in business.
Cheers to great pizza!