Over the past few years I have heard so many people tell me that if I wanted truly authentic Thai food I needed to go to Lotus of Siam– a James Beard award winning restaurant in a mini mall in Las Vegas. As someone fortunate enough to have spent a few months in Thailand in my early twenties, I've had a hard time enjoying Thai food here in the US ever since. So, 2015 was the year to go to Vegas and try it out.
And, like most things that have been overly hyped by your friends, it was a bit of a disappointment and I wouldn't go back. Don't get me wrong here. The food was good, the service was good, and we had a good dining experience. But, I had expected so much more. I was expecting it to be more of an "authentically authentic" Thailand-type-of-food than we experienced. They did, however, have an excellent wine list to accompany their cuisine.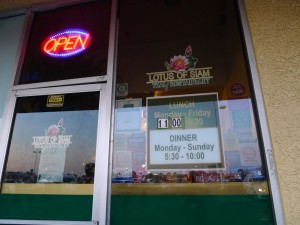 Lotus of Siam frequently has a two+ hour wait to get in. We got there as soon as they opened to avoid their infamous line, which was definitely a good idea given the mini mall scenery and the dessert heat.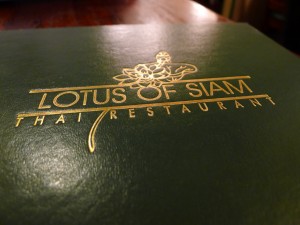 While Sean perused the wine list, I started perusing the very large menu. This is where I first got weary. The menu is long. There are so, so, so many options. It's the type of menu that covers everything and often has the same dish in a slightly different iteration on the next page. That was my first red flag. Right away I thought of the classic Southeast Asian saying, "Same Same but Different." Over there, it's like a joke amongst backpackers going through so many neighboring Asian countries. Over here, it felt like I was in a nondescript Chinese restaurant with a menu item that aimed to please everybody. In Thailand, however, menus are brief. Lotus of Siam claims to be northern Thai. There's no way acclaimed restaurants in northern Thailand offer such an eclectic menu. It just doesn't happen.
We ordered some egg rolls, tempura veggies and shrimp, and a bottle of wine to start. The wine was excellent, the egg rolls were fine, and the tempura veggies and shrimp were very unimpressive. There was so much breading, so little flavor, and it's really not a traditional Thai dish in the first place. Nor were the egg rolls. In hindsight, writing this, I wonder why we ordered them? We were hungry.
We ordered a cup of spicy veggie soup, which was good. We ordered a vegetarian mushroom dish, which was absolutely terrible, and we sent it back. It was a mound of cold mushrooms in the middle of a plater of raw sliced vegetables. They took it off of our bill, which was expected, but we were glad to confirm that upon receiving the bill. I enjoyed my catfish curry, but the highlight for me was the sticky rice I ordered in addition to the curry. It was almost identical to the Chiang Mai region's sticky rice, minus the presentation.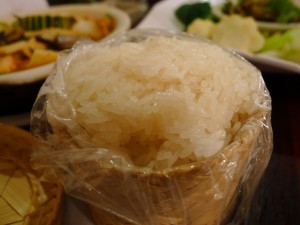 In northern Thailand, sticky rice is served in dried bamboo grass. At Lotus of Siam, it's in plastic inside a basket. Which brings me to my main point here- I'm not just trying to write something negative for the sake of complaining. I'm simply not convinced that Lotus of Siam is all that amazing. If and when you get yourself over to Thailand, you'll say to yourself, "OMG this food is so amazing! I can't believe how much better it is than the Thai food we eat in the US."  Stay there long enough and you try all kinds of cuisines from Bangkok, to Chiang Mai, Chaing Rai, Sukhothai, Kanchanaburi or Mae Hong Son. For Lotus of Siam to be such an acclaimed establishment seems ludicrous to me as eating there offers very little of a truly Thai dining experience.